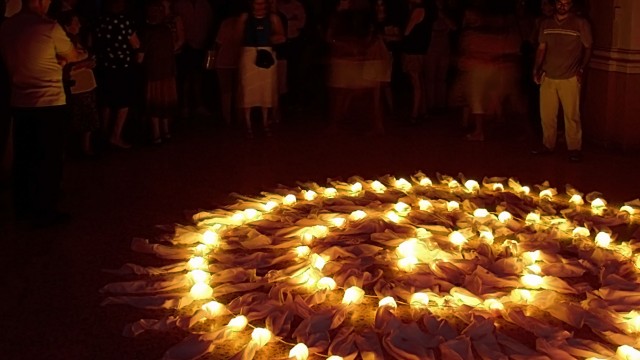 The knot, like the spiral or the sphere, is one of the Younes Rahmoun's preferred elements. Like with photography, the knot materializes a thought at a specific moment, it marks the "here and now." In Subha, a series of light bulbs casting of green light are held tightly by knots made with the fabric used for shrouds. For the artist, it is about using a simple gesture to contain the light before it disperses in the space.
Similarly, the artwork Oqda (knot in Arabic) is a sphere whose diameter measures 25 cm and which is made with many meters of knotted white plastic string. The repetition of a single motif – here, the knot – is for Younes Rahmoun a process similar to the repetition of the same word during meditation.
The artwork Melfoufa is part of a series of variations using plastic bags. It is presented in the form of a series of braided plastic bags hung along an iron wire, which is itself suspended along a white wall. Younes Rahmoun explains:
This work was inspired by the braids in people's hair. Indeed, this is how my grandmothers did their hair. I always liked knots, braids… The artisans that weave fascinated me, as did fisherman with their nets. At the same time, I wanted a form that was sturdy, not like string, I wanted to be able to repeat the motif several times. And so I created Melfoufa with its braids winding around each other using these plastic strings that pollute the landscape.